The mooncake, which is traditionally shaped like a full moon, is served, shared, and enjoyed during the Mid-Autumn Festival, an important Chinese cultural celebration that falls on the 15th day of the eighth month of the Chinese lunar calendar. The circle also represents "oneness," "perfection," and "union," which is especially meaningful when family members gather to celebrate the full moon.
Mooncakes today come in a variety of forms and fillings, but the original mooncake has a rich, thick filling of either red bean paste or lotus seed paste inside a thin, flaky, or chewy crust of glutinous rice flour. To represent the full moon, regional variations, such as the Cantonese mooncakes, may add salted egg yolks in the middle. Mooncakes are now adorned with Chinese characters for "longevity" or "harmony" and labeled to identify the sort of filling within. 
Mooncakes are commonly shared amongst loved ones at Mid-Autumn Festival reunions and get-togethers, and they are often presented as gifts to signify love and good fortune. With that being said, here are 5 places to purchase and try excellent mooncakes for this year's Mid-Autumn festival.
1. Hong Kong MX Mooncakes
The nutty White Lotus Seed Paste Mooncake with 2 Egg Yolks (starts at P800/single pack) and Mixed Nuts (starts at P2,500/box of four) are among the classic mooncake varieties available at Hong Kong MX. They aren't afraid to defy the rules, too. If you're feeling adventurous, you can try their eggy-buttery Cream Custard Mooncake and the Lava Custard Mooncake, which has a flowing lava-like middle (both available as part of the Hongkong MX Custard Duet Mooncake box, P2,200, and other bundles). This year, they've also produced a special MX "Spider­Man" Mooncake (P1,950/box) containing four pieces of their Tokachi Red Bean Mooncake for Marvel fans and youngsters at heart.
2. Hilton Manila
Hilton Manila features traditional mooncakes—with flavor variations like Red Bean with Single Yolk, Lotus with Single Yolk, Mixed Nuts and White Lotus with Double Yolk, and Red Lotus with Black Sesame and Double Yolk—in chic boxes perfect for gifting. The Lunar Reunion Package (P1,888) with two mooncakes (Red Bean with Single Yolk, Lotus with Single Yolk) is a no-fail option, but for the true food and drink enthusiast you'll want to get your hands on the Lunar Reunion Premium Hamper (P32,888) which includes a bottle of Dalmore 18 Years Whisky, White Truffle Sunflower Oil, Black Truffle Flavored Extra Virgin Olive Oil, and four mooncakes.
3. Solaire
Solaire's mission is to show that mooncakes are more than simply traditional varieties baked in a dense and soft crust—though they do offer such (starting at P3,688/box of two) in flavors like Lotus Paste and Almond Nut, Red Bean Paste with Pumpkin Seed and Double Egg Yolk, and others. Try the flakier Teochew-style mooncakes (starting at P2,888) in Ube Paste with Egg Yolk and Taro Paste with Egg Yolk varieties, or the chilled, lollipop-shaped Snow Skin mooncakes (starting at P6,888 with mini-chiller) in flavors such as Dragon Fruit with Lotus Paste and Whisky Chocolate, and Mango with Mango Paste and Mango Chocolate. They also have a special Dalmore Whiskey-infused mooncake (P28,888/two pieces with a 700-ml bottle of whisky) for the ultimate treat-yourself choice.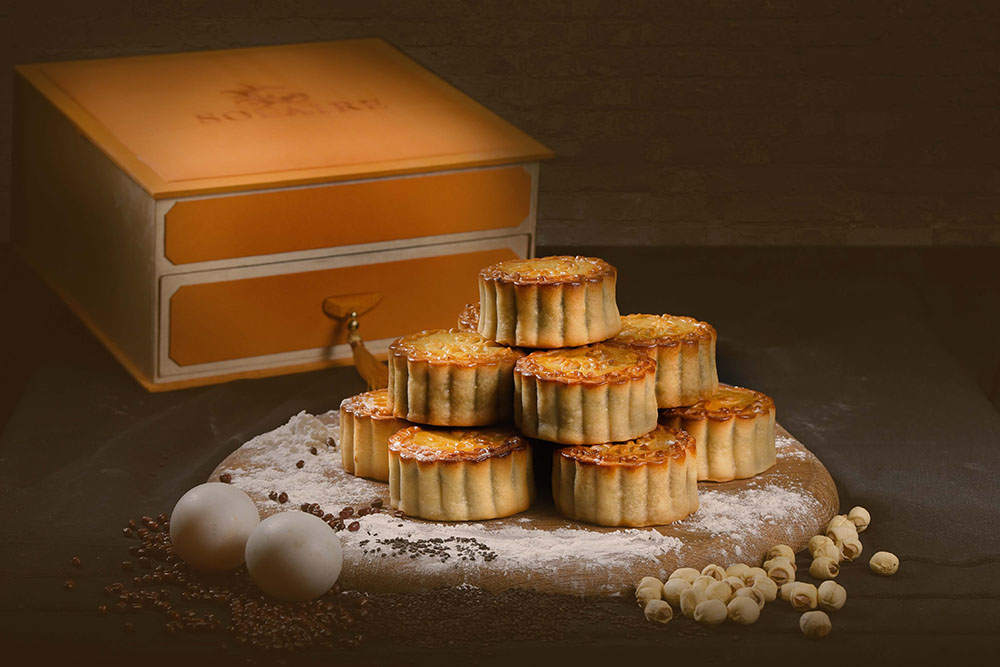 4. Kee Wah Bakery
Apart from delicious Chinese cookies and biscuits, Hong Kong's Kee Wah Bakery also sells mooncakes in recyclable tins. You can't go wrong with the Mung Bean Paste Mooncake with 2 Yolks (P3,100/tin of four) or the White Lotus Seed Paste Mooncake with 1 Egg Yolk (starts at P1,300/tin of four minis), but those looking for a savory-sweet treat should try the Chinese Ham Mooncake with Assorted Nuts (starts at P375/tin of one mini).
5. Shangri-La The Fort
With the mooncakes of Shangri-La the Fort's resident Chinese haunt Canton Road, classic tastes get a delightful nutty update. Pineapple and Walnut, Mixed Nuts, White Lotus and Salted Egg Yolk, Flaky Red Bean and Pine Nuts, Chestnut with Salted Egg, and Jasmine Tea and Pistachio are among the varieties available in micro (P488) and normal (P688) versions. Choose one of their handmade mooncake treasure boxes for a very spectacular present (starts at P3,288).